M4L Rhythm Composer
14,00€
Step Sequencer (1 track) + GLITCH + CHORDS
MORPH patterns, create GLITCH effect, REMIX & create groovy beat sequence
Additional information
Description
Description
Create modern sequences using the special WIZARD function, MORPH patterns together, create GLITCH effect, REMIX your production in real time, create groovy beat sequences (Roger LinDrum), etc.
Last version: V1.0/ 15th September 2021.
Ableton Live 9 & 10 & 11 / MaxForLive / Windows / Mac
---
Creative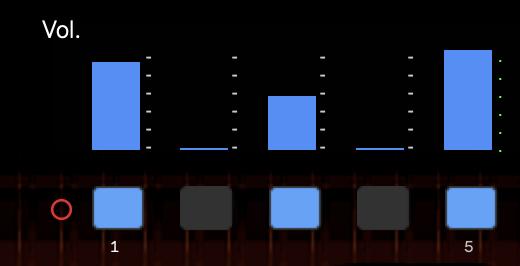 Start with a blank sequence & create easily nice rhythmic percussions, drum lines, simple melodies, etc. in few minutes.
Instinctive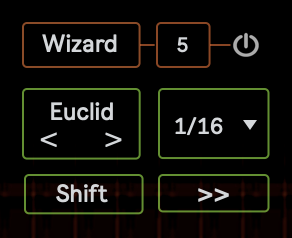 Change in live your midi sequence with the special WIZARD function. The WIZARD reproduces human drum behavior.
Chaotic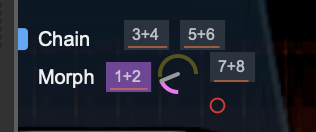 We added a special MORPHING function that extrapolates steps sequence values between 2 patterns.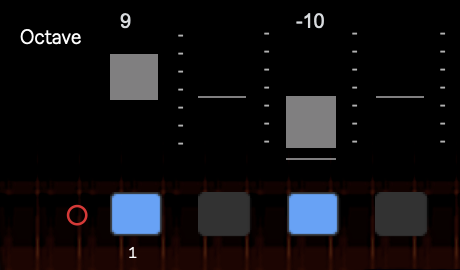 You can change the note midi value for each steps (octave function)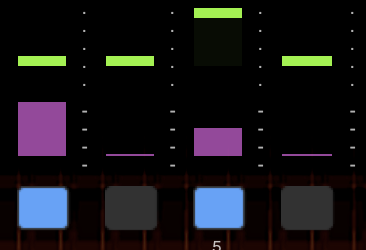 Glitch effect using the Step Repeat mode

To humanize your rhythmics, we added the Roger LinnDrum Swing mode :
– Velocity LFO modulation
– Note length LFO modulation
– Swing function (Roger Linn)

You can also REMIX the steps sequences (50 pre filled remix patterns available) or use the DJ Looper effect.
Key features
16/32 steps sequencer (ONE ROW)
Groove functions (Roger Linn)
Remix & DJ looper
Step repeat mode
Probability & Octave panel
Save/Copy/paste patterns
Chain & Morphing functions
WIZARD mode (special random)
Euclidean function
Instinctive & creative groove SEQUENCES !
Demo version
You can test our plug in using our DEMO Version.
Note that the demo is fully functionnal BUT M4L Rhythm Composer will stop playing after 15 minutes.
 Documentation
A documentation is available >>> HERE
The documentation is also available within the plug in package (in the compressed file).

.
Note that Rhythm composer is a maxforlive midi drum sequencers, you will need to add your own ableton live drum rack or samples.
You can also plug the M4L Rhythm composer to any kind of music hardware (using a midi din cable).
Requirements
You will need Ableton Live 9, 10 or 11
You will need Maxforlive (included in Ableton Live)
Windows or Mac, it works on both platform


As we are using our own product in live, we are very carefull at bugs & performances, this is why the plug in has been programmed to get a very low midi latency,
EXTRA features
You can Shift steps to the right,
You can play the sequence Forward or Backward,
Choose your own time signature : 1/32,1/16, 1/16T, 1/8, 1/8T, 1/4.
You can also automize the WIZARD function :

The Wizard can be fired up on a special occurence (every 10 sequences for instance). Thanks to this function you can produce a  live act and the computer will create a new rythmic tracks every X occurences !

All the functions are played in SYNC with Ableton Live
You can change the color of the plug ins
You can also change the name of the plug in .
You can map to your favourite midi controller (PUSH, Atom SQ, APC, Novation, Arturia, etc.) the main functions available.
You can create your own patterns and save/copy/paste them into the 8 different slots available
You can save/copy/paste at any time (during morphing for instance) the steps sequencer state.
The save function is very powerful: it keeps in your ableton live project the sequences you have saved.
You can import/export your 8 patterns into a JSON file, perfect to create templates.
Low midi latency engine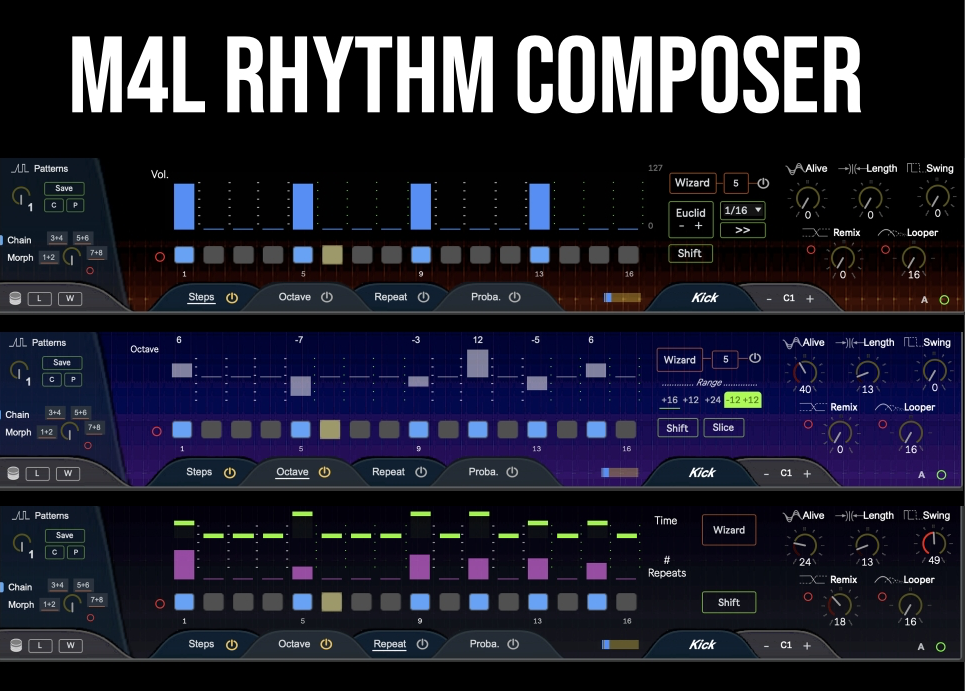 M4L Rhythm Composer is an instinctive & creatice Midi Beat Step Sequencer
Reviews (0)